We are pleased to announce Baxter, a new concept in the CD DVD duplication systems industry. Baxter, an automatic MP3 Ripper Duper, is an entry level DVD CD duplicator product that allows batch MP3 / WMA ripping from CD DA discs automatically. Baxter can back up your hard drive on schedule. Baxter is truly a desktop Digital Assistant, and not a just another CD copier.

For commercial users of CD copiers, Baxter features can be found on our Scribe PC, PC Based line of automatic CD /DVD duplicators. DVD CD Duplication features like unlimited off line storage of your print and data copier images comes standard. The ability to hot swap CD Inkjet printer or DVD thermal printers offers total flexibility without obsolescence. Owning MF Digital automatic DVD / CD copier systems means you have real on-line disc capacity ranging from 250 to 600 discs. MF Digital CD copiers and duplicators expand with your changing copier needs


Baxter is the beginning of a new era in the CD/DVD duplicator industry. It is more than a mere duplicator - it is a Digital Desktop Appliance, a Digital Assistant...

Baxter Features
1. Duplicate CD's and DVD's with Scribe PC software
2. Schedule back ups of your PC Hard Disk Drive to CD or DVD
3. Automatically Batch MP3 Ripper (and WMA)- Rip files from 100s of of CD-DA discs
4. Automatically archive Images to Hard drive from multiple discs
5. Perform as an SDK (Software Developer Kit for custom applications)
6. Simply plug in USB to your PC and power cable to wall -- Load software & GO

MF Digital BAXTER MP3 Ripping FAQ
So.... I just load Baxter up with 25 audio discs and it will automatically load and rip each one?

Yes. Just load baxter and start a batch rip. It will automatically load and unload each disc ripping them to MP3 or WMA files.

What happens when Baxter runs empty?

Baxter will prompt you it has run out of discs. At this pint you can simply reload and continue on if you have more discs to rip.

How much does Baxter cost?

Baxter has a list price of $895

Can I use any CD ripping software with Baxter or does it include software?

Baxter comes with its own ripping software.

Are FLAC and / or WMA lossless supported?

WMA lossless is supported although FLAC currently is not.

How fast does Baxter rip?

This is PC and content dependent. A faster PC can certainly speed the process. On an AMD Athlon 1800+ a 70 minute CD took me 7 minutes.

Can the recording quality be changed i.e. from 128kbps (near CD quality) to 160kbps?

While we default to variable bit rate as we feel this delivers the best in terms of sound quality and file size, all popular constant bit rates can be used.

Can I rip right to my MP3 Player?

Yes, if your MP3 player can function like a storage device, we can rip right to it. iPods are a little different however. While they can be used as storage devices, only tracks transferred using iTunes are available for playing. So, if you are using an iPod, it is best to rip the audio CDs to hard drive first, then transfer them to your iPod using iTunes.

Can Baxter access an online database for ID3 tags?

Yes, we use FreeDB for ID3 tag so Baxter can write ID3 tags into audio files it creates. ID3 tags allow an audio file to contain extra information such as the name of the disc, the name of the artist, the name of the song, etc., genre, and so forth. Many of today's MP3 players will display this information during playback. If the PC hosting Baxter is connected to the internet, we can retrieve these automatically for most CDs.

Do you have similar machines that handle more than 25 CDs?

Yes we do. For production environments, consider the Scribe PC Series with input capacities up to 600 discs.

SCREEN SHOT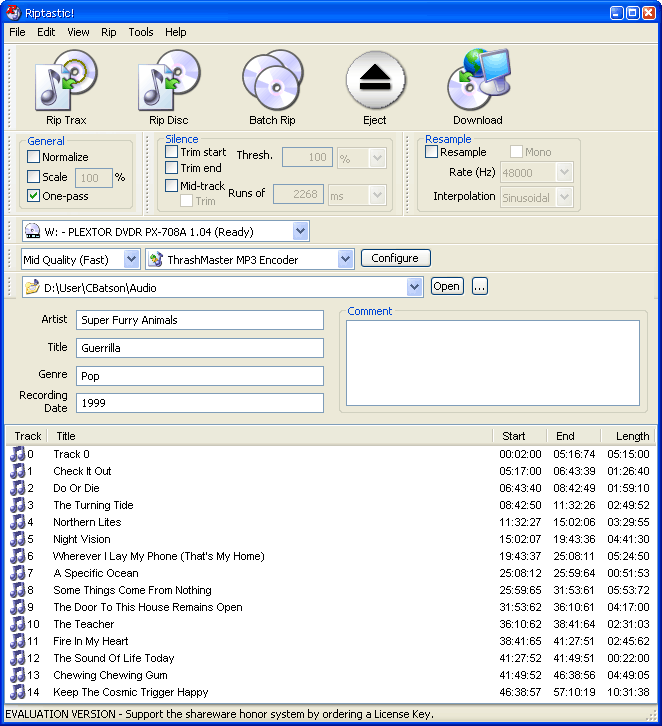 Applications include MP3 Ripper, Hard Disk, Backup, Restore, Hard Drive, MP3 Convertor, CD Ripper, CDA to MP3, MP3 Conversion, Wav, WMA. CD Duplication including DVD / CD duplicating batch discs.